Front-runners in the 2018 Iditarod are closing in on Nome, Alaska, and 60+ mushers and over 850 sled dogs are not far behind on the roughly 1,000 mile course between Willow and Nome. This year's Iditarod marks the 46th annual running of "The Last Great Race," a super marathon that tests the resilience and willpower of the mushers and dogs that brave the extreme conditions and intimidating distance in Alaska's arctic frontier over the course of 8-12 days. Stretches of this route were used by Native Alaskan Athabaskan and Inupiaq people well before Russian fur traders arrived in Alaska, and dog-sledding also played a crucial part in the famous Klondike Gold Rush of the late 19th century. The most famous dog sledding event happened in 1925 when mushers raced to Nome to deliver a serum for a diphtheria epidemic that threatened to wipe out the entire community. Dick Wilmarth won the first ever Iditarod race in 1973, and since then the race has become a nationally recognized event fueled by hundreds of volunteers and millions of dollars in corporate sponsorship.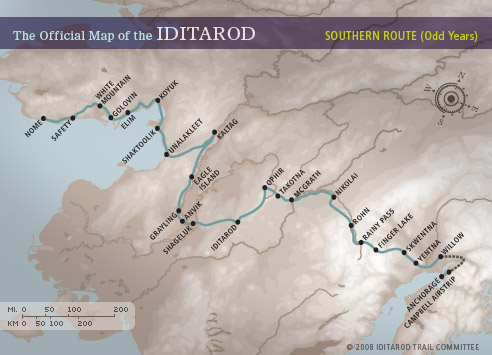 The 2018 race kicked off amidst some well-documented turmoil, including a shrinking budget, the loss of a major sponsor, increased criticism from animal rights groups, and a dog-doping scandal involving one of the biggest names in dog mushing. In a way, these mounting blows to the sport are not exactly shocking, considering that recreational and commercial dog sledding feels uniquely out of time – a 19th century phenomenon surviving against all odds into the 21st century. Indeed it is that sense of history and tradition which provides much of its appeal: dog sled races like the Iditarod and Yukon Quest exist not only as modern sporting events, but as nostalgic touchstones for a different time, when humans and their animals proved the power of their extraordinary spirit in the face of nature's most frightful conditions.
Tradition can be a vital function of culture, especially those cultures trying to stay alive in the midst of assimilation and extinction. But tradition alone should not tip the scales against the weight of injustice: a point proven again and again over the course of human history. In fact we are still trying to learn this lesson; many of humanity's most unforgivable crimes were (and continue to be) couched in the thick fog of tradition. I am not equating sled dog racing to those worst of human errors, but the criticisms against the industry of sled dog racing do seem worth examining. Nothing good should fear scrutiny or critical analysis, so it seems like a good time to ask, not for the first time: is dog sledding actually good for dogs? Or more precisely, is it bad for them?
If you talk to dog mushers, or even the majority of Alaskans, they will tell you how much sled dogs love to run. These huskies and malamutes are bred for frigid temperatures and lots of exercise. Anyone who has ever kept one of these rugged northern breeds as a pet will know how much exercise they require to be truly content. Often their love of the outdoors outpaces that of their human guardians, something that not enough pet owners consider when adopting. But it is important to note that these sled dogs are not pets: under Alaska law, sled dogs are considered "sport animals," and the state's animal cruelty statutes do not apply to them.
Alaska is not the only state where this is the case, and it is important for fairly obvious reasons: without the protection of animal cruelty laws, animals like sled dogs or livestock do not have the same legal standards for humane treatment. This has made it difficult for animal rights groups to hold responsible those owners of commercial or sporting operations who engage in questionable tethering or kenneling practices, or even culling (the act of killing non-useful animals). So this distinction between pets and sporting animals is important for both sides of this debate. Mushers want you to know that these dogs are not the same as your beloved household pets: they are strong and rugged animals, trained and genetically equipped to run great distances in extreme cold. Ironically, there are more problems with dogs overheating than becoming hypothermic. But for animal rights advocates, this legal distinction means that animal abuse can occur with little to no legal recourse. Those groups argue that this leads to an industry which is legally and morally inscrutable; if the state doesn't give basic protections to sled dogs, how can the public trust that animal welfare is a top priority?
Merely pointing out this legal distinction is not an implication that there is widespread animal abuse happening in the world of sled dog racing. In fact it is clear that most mushers have a deep affection for their dogs, and a bond formed through shared experience on the trail. Alaskan cult hero DeeDee Jonrowe is known for her perseverance in the face of incredible hardship, and her love for the dogs which helped her when she needed it the most.
"The sweetness of the dogs and the bond with the dogs is what it's all about," she said in an interview a few years after a car accident that killed her grandmother and left DeeDee hospitalized for two weeks. "It's a companionship and bond, and emotional give and take, that makes this sport unique. . . dog care is first and foremost the principle of dog racing." Interviews with other mushers echo this sentiment of respect and devotion to the animals which make the race possible.
Sentiment only goes so far, however, and animal rights advocates worry that the public sees just the tip of the iceberg when it comes to dog racing and commercial sled dog tours. Fans and onlookers come out for the beginning and end of the race, as if that was the story. But the real story of dog mushing and the lives of these animals is lived in all that time before and after the run, when dogs are bred and trained and kenneled from birth.
The worst case scenario played itself out in Whistler, Canada in 2010 when an employee of Howling Dog Tours was ordered to kill 100 of the company's 300 dogs when the business fell on hard times following the Vancouver Winter Olympics. There were too many healthy dogs to find homes for, so they were destroyed by shooting, stabbing and blunt force and dumped in a mass grave. The story came out when the employee who carried out the mass culling filed a claim for post-traumatic stress disorder. Another sled dog tour company in Snowmass, Colorado received national attention when Dan MacEachen of Krabloonik dog tours was charged with eight counts of animal cruelty in 2013, citing malnutrition, poor kennel conditions and insufficient veterinarian attention. He had previously pleaded no contest in 1988 for a charge of animal cruelty for breaking bones in a dog's face during a "vicious" beating.
It is clear that commercial sled dog operations open up the possibility for mistreatment and abuse of dogs, even if most of the humans involved harbor no ill will towards the animals that provide the lifeblood of their businesses. Many of the owners and employees of such operations say that the public simply doesn't understand the biology and needs of sled dogs, but it is troubling that so many large kennels have run into trouble over accusations of neglect, malnutrition, poor living conditions and legal culling.
In 2011, the Whistler Sled Dog Co. was established about 20 months after the infamous Whistler dog culling, in an effort to shake up the dog sled industry and prove (or disprove) if commercial dog sled tours could be profitable while maintaining animal welfare as the top priority.
The operation folded after two seasons.
Volunteer Director Sue Eckersley said in the documentary Sled Dogs that "We weren't providing the level of care and the level of life that we were comfortable with as animal welfare people . . . margins are very small and the season is short. It didn't make sense on a financial level at all." After just two years of operation, the dogs were handed over to Whistler Animals Galore (WAG) whose job it has been to find homes for over 80 dogs.
The implications of the "Whistler Sled Dog Experiment" are troubling. For those two seasons, they were the #1 booked sled dog tour operation in Whistler, and they still did not last even three seasons trying to balance animal welfare with financial viability. If this is true, what does it mean for other sled dog operations around the world? The unsettling suggestion is that you can have profitability or animal welfare, but not both. If true, it certainly wouldn't be the first time that following the money led us into a Dagobah-esque cave which brought us face-to-face with our own humanity, and what we are willing to sacrifice in the name of our own goals and profits.
At the same time we should be careful not to conflate commercial sled dog tours with individual mushers, even if they face many similar challenges. Despite what some animal rights groups may try to suggest, dog sledding is not typically a very profitable venture. Maintaining kennels and providing food for dogs is quite expensive, and most mushers will tell you that mushing is not a sport about money, but about passion. Like multiple Iditarod winner Lance Mackey told USA Today during his own financial hardships, "Everyone thinks I'm rich because I won the damn Iditarod. The fact is, the more involved and competitive you become, the more you have to spend to be competitive."
So let's get back to the driving question: is dog sledding actually bad for dogs? It would be easy to say that commercial and competitive dog sledding is intrinsically cruel, an industry which sacrifices the lives of its dogs to satisfy the passion (or bottom line) of the humans driving the sleds. And it would also be fairly easy to take the other side, and argue that these dogs are truly doing what they love and what they are trained for – that PETA and organizations like it are filled with hopelessly misguided reactionaries that don't have the first clue about the realities of mushing. As is usually the case, the truth lies somewhere in between.
When it comes to the Iditarod and other sled dog races, there is a physical toll. Some of the health risks faced by dogs include issues with dehydration, pneumonia, ulcers and gastric distress. Mushers argue that the number of dog deaths and injuries is commensurate with the sheer number of dogs in the race, and that pets face just as many risks staying home. The line for acceptable health risks in a race this grueling depends on who's drawing it, but it doesn't seem unreasonable to ask for more stringent practices to protect the health of the dogs, not just during the race but also in that vast majority of  time when they are out of the public eye.
Recreational dog sledding is a sport which enriches the lives of animals and humans – a way for both parties to get out in the elements and get the exercise they need for health and enrichment. Any time that humans act as stewards for animals, there will be isolated cases of cruelty – but dog sledding itself is not intrinsically inhumane. It is when the sport becomes motivated by competition or profit that things tend to get complicated. There have been too many charges against inhumane dog kennels to ignore: it doesn't take a lawyer or a musher to look at the conditions and body language of some kenneled dogs to know that something isn't right. Short seasons and large kennels are a nasty combination for dogs that often don't get enough food, exercise or social interaction. Perhaps there is a way to keep sled dog tours in business while treating dogs humanely, but this would require rethinking standards and regulations for kennels, as well as changing the legal protections of these creatures that we profess to love. The legal loophole which denies sled dogs protection under normal animal cruelty laws is a major impediment in the quest for humane practices.
Three-time Iditarod musher Danny Seavey was asked recently by a fan: is the Iditarod inhumane? He then took to Facebook with an honest, thoughtful and no bullshit response to the question. In it he addressed some of the biggest controversies of the race (doping, dog deaths, kennel conditions, veterinary care) and even proposed a few ideas to improve these areas. He poked some holes in the idea of increased mandatory rests, proposing instead a "starting line" system at every checkpoint, which would leave the decision to run up to the dogs. He also acknowledged the bad optics of tethering, while at the same time defending its practice. Altering Alaska's animal cruelty statutes would require mushers and dog handlers to come up with new strategies for kenneling and tethering, a logistical problem which is "probably where we should be concentrating our efforts," according to Seavey. The biggest change he would make to the race? "Do away with the prize money. . . if you can't afford to lose, maybe you shouldn't be out there." Perhaps the most important takeaway from the post is the attitude towards open and constructive dialogue. Like Seavey says right off the bat: "If we insist we're 100% right, and the other guy is 100% wrong, we're all doomed. Maybe PETA has a point on a few things. Maybe they'll learn a thing or two from us. You never know until you listen."
For the future of the Iditarod, changes to the race may have shifted from possible to necessary: a report by The Foraker Group shows the dire financial and cultural realities of the event, as relationships with corporate sponsors fray in the wake of animal rights protests and the mishandled doping scandal. There are signs of life from the Iditarod Trail Committee (ITC), as they have vowed to develop a "best care" kennel management program, in addition to shaking up the list of board members to remove long-standing conflicts of interest. Critics say that they have heard this before, and that it will take real action to prove the ITC is sincere in enacting substantive change to protect animals and mushers. The Iditarod and the centuries-old sport it represents is facing the harsh realities of the 21st century, and ignoring those realities would be neither moral or practical. Tradition, as we have learned, can only take you so far.
Featured Image: "Dog Sledding in Prince George British Co" (CC BY-NC-ND 2.0) by Kris Krug